Post by Cassie Cavanaugh on Jan 22, 2013 12:22:32 GMT -5
CASSIE CAVANAUGH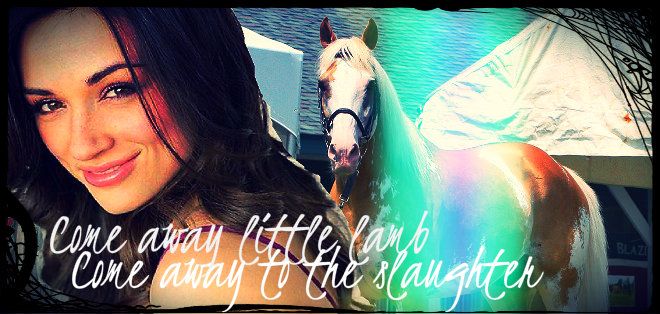 Her alarm was going off. That fake whinnying could be heard probably from a mile away. Groggily, Cassie managed to extend her hand out from the massive mounds of blankets that she had been cocooning herself under for sleep. Fingertips brushed against the alarm clock, but not enough to hit snooze. The clock tittered on the edge of her end table, causing the young girl to wake up just a smidge as it threaten to fall. She struggled to grab at it now, just when one leg slid off of the clock slid off, and took the rest of it's body with it. The grey horse on the face wouldn't be smiling any more. Cassie made a grab, and it had been a lucky one. Grasping it right when it was about to make contact with the floor, to which it would be making a lot more sound than just it's fake whinnies on repeat.
A sigh of relief escaped her, not knowing what her roommate would have said to such an awaking. Her hazel eyes peaked over at the other bed. Empty. At the beginning of the year, Cassie used to believe that it was a puzzling thing, but by now, she had grown used to the absence. They were two very different people, and while her roommate excelled at talking with boys and girls a like, Cassie didn't which often left her having the room functioning more as a single than a double for two high school girls. Her alarm was still going off. Switching it off, she placed it back on the end table but at a safe distance from the ledge before she rolled back into her bed, nestled under the covers.
It was some time after six, she was certain of it and through the crack in her window shade that she allowed, the sunlight was starting to peak in and the morning birds were singing the song of their people. Cassie just wanted to go back to bed, to sleep it off and never get up again, but she found in all her will that she could not do it. Or at least, she could not fall back to sleep and escape into the world of her dreams. Instead, she found herself just lying there and staring up at the ceiling in the darkness. The only light was that peak of sunlight. She wasn't sure what it was about the darkness, but she found it comforting, about as comforting as the smell of horses.
Horses, which lead her train of thought to the stables. It seemed to be growing more empty as of late. Soon, for all she knew, it might just be the school horses. Everybody was leaving, some taking their horses with them, others selling, and some just donating them to the program. Cassie couldn't help but to wonder why but she knew the answer all along. People change. Their attitudes, personalities, vices and virtues, likes and dislikes. Any number of things. It only took one crack in the glass before everything could shatter without so much as a pinprick. Just like that. Nobody could tell what happens except for yourself. As far as Cassie knew, there were no maps or signs. People just came in one day, and out the other.
That thought was a little intensive, she should know better than to think such things. People change all the time and there was nothing she could do about it. She had been on enough army bases. That alone should explain all the puzzles to her. Maybe not. Cassie looked at her time spent at Canterwood so far. How naive she had been, to think that she could make it at such a school and yet, it's been nearly six months and she found herself still in the same spot. She wasn't knew, but she still felt like it. All around her, people came and went, but they found themselves and established themselves and changed themselves whereas she, was still the new girl.
It wasn't suppose to be this way though. Going to a real school was suppose to have changed her, given her some stability, a better life, drama even but everything just washed away. Cassie was still that girl with no friends. Acquaintances, yes, but friends, no. Maybe she clicked, or made the right impression, or found a clique. Or even if she did find them, they were impenetrable. It didn't matter if it was the trio, or a group of misfits, or even just the kids who fell in between. Nobody seemed to like to stray from what they know, who they know and maybe that was what got her in the end. Some people were just destine to be loners, and it wasn't for lack of trying, nobody just seemed to have any interest.
The thought made her sigh, heavily. Her brain racing through those people she had met. So distinct in her mind, yet she knew she muddled right through theirs. Lost and forgotten, like a piece of homework, just like the horses. The thought caused a twinge in her heart, but she wasn't sure why. Rolling onto her side, hazel eyes peaked out the crack to where the sunlight might as well blind her. Even in the blinding haze, from the small distance, the stables stood still and proud. It was the basis for survival, for her survival and maybe even for the school's, "If wishes were horses, then beggars would ride," Cassie muttered under her lips now as she pushed herself up onto her elbows, the blankets still ensnaring her to the bed.
No longer did her hazel eyes stare at the ceiling though but at the wall. Aline with posters that she took from Horse Illustrated, Horse & Rider, Young Rider, a collection that grew over the years and had seen many walls and many countries. On them were the greatest that the world had to offer: Madden, Peters, Dutton, Ward, Lamaze, and many more. She wondered what they went through, their training, their friends, whether they made it socially or they floundered just like her in awkward settings whether it was groups or one on one. Or maybe, they just didn't care. Cassie knew that was something she should believe in; not caring. But it was easier said than done. At this rate though, maybe she didn't have to care, because everybody was gone.
Sitting up now, completely, she reached over and pulled the blind. Yanking it down before letting go and watched the blind race to curl back up at the top of the window. Sunlight poured in, lighting up the room and set a certain sparkle to it before the clouds passed over. Hazel eyes glanced to the clock, an hour had passed while she had been lost in her thoughts and speculations. Freeing herself from the blankets and the warmth, Cassie's bare feet touched the bare wood floor and a shiver went up her spine. She couldn't let that stop her though, if she did, she'd just end up sitting in bed all day. Marching herself across the room, she flung her closet open.
Hazel eyes glanced it over for a moment, suddenly happy that she wasn't materialistic or had anybody to impressive. Her horse didn't care, horses never cared so long as you didn't hurt them. Grabbing her winter breeches, Cassie stuck one foot in them and then the other before sliding them on. The inside warm to the touch and hugging her legs, and for a moment, she couldn't decide of that familiar warmth starting to creep inside was from the breeches or just the fact that she was going to see Starlight. Thoughts of her horse only made her work faster now before she was finally assembled with the necessities of the sports bra and the layers of under armor with her warmest hoodie. Back to sitting on her bed, Cassie was throwing on her paddock boots again, trying to not let her thoughts wander to much to what had been troubling her this morning.
Horses were all that mattered now. That and looking out for people, but at that time being, she didn't really have much of a job in that department. Her feet were snug in her paddock boots, everything was snug and warm. Grabbing her ear protector, Cassie pulled it down over her head and two her neck before pulling it back up, making sure that none of her hair was caught in it. Digging into a box, she grabbed herself a granola bar and an apple before her wristlet and headed out, locking the door behind her and with that, all of her troubles as well.
The campus was quiet this early in the morning. People still recovering from their undercover parties and keggers she assumed. That or nobody would be this crazy to be out this early in the morning. Other than the stable hands at least, since they had the horses to take care of. Everything was crunchy but there was a lack of snow. The frost had come but all what it left behind was ice and morning due. With the sun hiding again, nothing seemed to sparkle and it almost looked like a fog might start to roll in now, and she wondered if it would sweep her away like every one else. If it tried to, Cassie vowed that it would not happen. The stables approached fast and she side stepped into the door before sliding it shut behind her and that familiar smell hit her. Horses.
Horses had become so obsolete over the years. Replaced by technology and machinery, they have become another animal that seemed to be over abundance for America and people alike. Too many and so many unwanted, neglected. Farmers referred to them as parasites for the Wild Mustangs. They weren't needed, they weren't wanted. How ironic, since if it wasn't for the horse, they would not be where they were today. The horses won the west. They carried their masters, their baggage across the plains and mountains. They plowed, carried mail and machinery, went against gun fire and died in wars. They saved lives and saved the economy where as the car could not, not until the wars came and America was back in business from the depression. There were horses who became famous for television and became heroes to America because of racing. So much impact they left in history and the lives of many, but looking at the stables now, she would have never have guessed it.
Cassie's gaze passed over empty stalls and gold nameplates that would never be used again. All names she recognized and all of them were gone. Just like that, nothing left but an empty box stall and the ghost of a memory. Her footsteps echoed in the aisle and no curious heads appeared for a while until near the end of the boarding section when a familiar white and golden head popped out. His ears were forward and his amber eyes laid on her. A whicker of excitement escaped the horse, excited to see her familiar face once again, "I brought you an apple," she informed the gelding as she held it out for him, her brumby, her little wild horse.
Starlight eyed the apple greedily for a moment, nosing it before he took a bite out of it. Crushing the fruit and causing juice to spray along with the gooping saliva of his mouth. A grin cracked across Cassie's face. She could always count on her horse to bring her a smile, for it felt like she had been doing very little lately. Her horse continued to work on the apple and very soon, there was nothing left save for the memory. His food was gone, no doubt eaten already and how he was left to his own entertainment. There was no need to worry about that though, she would entertain him.
Grabbing his nylon halter, Cassie slid the door open and held the halter out, and automatically, Starlight stuck it right in and pulled his head down, trying to take her with him as she snapped it on along with the lead rope, "Lets go, boy," she muttered now. Leading him out, her thoughts wandered for a little. She still couldn't get over how lucky she was to have the little brumby. All because of her mother, who watched her down from Heaven, or so that was what her dad told her. Cassie didn't mind that talk though. Cancer took away something she loved, but at the same time, replaced her with a new one that her mother had found for her, even before her death.
Outside of the stables, Starlight's ears perked forward as he glanced around. No one was out save for themselves, but he still always seem to get excited, like at any moment, there'd be a wild herd of brumbies for him to chase down. No such luck though. She lead him to the small pasture, opened the gate and took him in before turning him around and undid the lead rope. Starlight turned fast and Cassie backed up fast as he tossed his head and through a bunny hop. Closing the gate with her on the other side, she then climbed the fence and sat on it's cold plastic bars, watching. Her horse wasn't wild any more, he hadn't been for some time, even before her. He was taken from the wild, born and bred, but now a mount. Starlight didn't seem to mind it, he had become man's best friend, her best friend.
He raced along the fence, galloping when he could and doing sharp twists before turning and heading in the other direction, eager to stretch his legs without the need of work. Hazel eyes simply watched, watching a wild spirit rekindle. Taking out her granola bar now, Cassie took a bit and began thoughtfully chewing as the little brumby raced by her before finally dropping back down to a walk and stand still to eat. Cassie originally thought that everything she needed came from school, from girls, from guys, from the social aspect that had been painted on tv and music videos. But maybe, that's not what she had needed, perhaps the stability that she had really needed had come from Starlight. People come and go easily, but animals, they remain there forever until they die. And just maybe, all of the answers she was looking for didn't happen here and now, just like it didn't happen for all the people who were leaving or for the horses with the empty stalls, maybe it happened in the future, or maybe all the questions would never be answered.
The sunlight just peaked out again from the clouds, hitting Starlight as he grazed and the rest of the world. A smile tugged at Cassie's lips as she continued to munch: they were going to be just fine.